WHERE SUSTAINABILITY REIGNS AND LAUGHTHER CROWNS THE EXPERIENCE
Green words from our General Manager Tom JanssenS
"Crowne Plaza Antwerp is a small yet perfect representation of our entire society where guests and team members from different backgrounds and convictions live, eat, meet sleep, work and relax. This unique position offers us the perfect opportunity to lead by example, showcasing how our lifestyle choices can impact the world around us. By prioritizing sustainability in everything we do, we aim to find ways for everyone to live better and lighter, inspiring positive change in our guests and the wider community"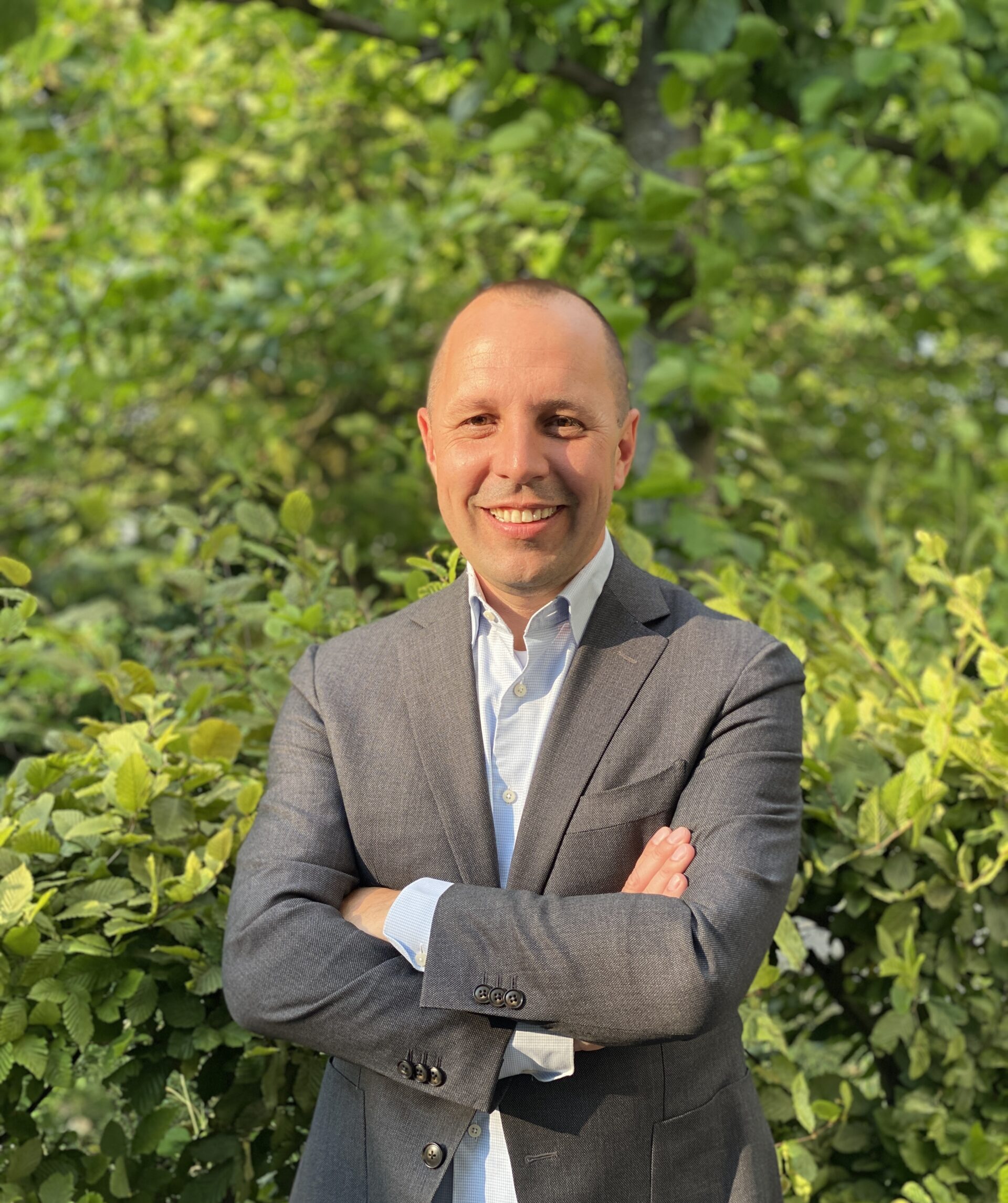 GREEN HARMONY – THE ENVIRONMENT
We are committed to conserving resources, reducing waste, and minimizing our carbon footprint. Located in the green heart of Antwerp, we stand by our words to operate in harmony with the environment. Through energyefficient practices, water conservation initiatives, and responsible waste management, we strive to protect and preserve the planet we call home. sations of every kind. Choose from 262 designed guest rooms with everything you need to connect, relax and have a great night's sleep.
SOCIAL WELLBEING – THE COMMUNITY
Social sustainability is just as important as environmental sustainability. At Crowne Plaza, we prioritize community engagement and partnerships with local schools and suppliers. We also focus on the wellbeing of our guests and employees, aiming to create a positive social impact and promote equal opportunities for all.
BALANCE – THE ECONOMY
Economic sustainability drives our commitment to building a better future. We understand that sustainable business practices lead to responsible economic growth. By supporting local suppliers, investing in sustainable technologies, creating job opportunities, and focusing on a sustainable supply and value chain, we contribute to thriving economies while ensuring a sustainable tomorrow.
ANTWERP – THE CULTURE
At Crowne Plaza we want to tell the story of Antwerp, where you can find small hints all over the hotel; everything from the story about the Antwerp hands to the carpet of Google Maps of Antwerp to a sightseeing guide on the 16th floor. By embracing Antwerp, and its local community, we can create a welcoming and accepting atmosphere.
Rooms
Green choice: We offer a Green Choice program that allows guests to opt out of housekeeping services with a door hanger and receive a 5-euro voucher slipped under the door for the hotel restaurant, ANNA.
Call if you have forgotten something: We encourage guests to call for essentials, such as toothbrushes, instead of automatically providing them in each room. This approach helps us reduce unnecessary waste and contribute to responsible consumption practices.
Glass bottles: In our rooms, you will find glass bottles from Aqualex where you can fill your own bottle at the filtered water station located in the lift landings. Enjoy still or sparkling water! This initiative minimizes plastic waste.
Water-saving fixtures: We have installed water-saving toilets and shower heads, ensuring optimal water efficiency without compromising your comfort. These fixtures help us reduce water consumption, contributing to a sustainable and responsible approach to hospitality.
Chemicals: When contemplating ways to minimize the environmental impact of the hospitality industry, housekeeping may not be the initial aspect that
springs to mind. However, conventional housekeeping practices often
consume excessive amounts of water and energy. Our housekeeping is trained to clean in an eco-friendly way and being vigilant about water consumptions and towels change. We use refillable, ecological soap, lotion and shampoo in our rooms and public
toilets.
These sustainable practices are integral to our commitment to environmental responsibility and providing you with a comfortable stay. Thank you for
joining and helping us in our efforts to create a greener
and more sustainable future.
Restaurant
We prioritize local partnerships to source premium products, guaranteeing their freshness while supporting the local economy, and enhancing your dining experience through sustainable practicesAt Crowne Plaza Antwerp there is one restaurant, anna antwerp. It is a Belgian bistro and wine bar with a twist. That also hosts our breakfast and
Recycling: At Crowne Plaza we actively prioritize recycling. We have seperate bins for glass, carton, plastic, and organic waste. By responsibly recycling these materials, we significantly reduce landfill waste and contribute to the development of a circular economy.
Local Menu: Our dedication to sustainability is evident in our restaurants. Indulge in our thoughtfully crafted local menu, showcasing Antwerp wines and beers. We source ingredients from local suppliers to support the regional economy and minimize the carbon footprint associated with long-distance transportation. Here are three examples of green partners we work with for breakfast, lunch and dinner.
Callas Confiture

, a Ghent-based brand, is renowned for its Haute Couture Confiture, emphasizing sustainability in crafting fresh, low-sugar jams that enhance the authentic flavors of fruits. 

Dilmah

is our chosen partner of tea due to their unwavering dedication to sustainability and the circular economy, achieving remarkable progress by eliminating plastic packaging, expanding renewable energy sources, and aiming for carbon negativity by 2030.

Antwerp Wijnfaktorij is Antwerp's first urban winery, for their sustainable practices like regenerative viticulture, minimal manipulation of wines, and emphasis on vegan-friendly production processes, resulting in enhanced flavors.
At breakfast 
Delight in an exquisite breakfast buffet offering a diverse range of culinary delights, sourced through local partnerships to ensure freshness and support the local economy, enhancing your dining experience with a touch of sustainability.
Meetings & Events
We are committed to embracing sustainability across all aspects of our operations, including the Meetings & Events Department. We take pride in adopting a forward-thinking approach to minimize food waste and provide an eco-conscious experience for our guests. By continuously exploring innovative initiatives, we strive to create a responsible and environmentally friendly dining atmosphere for everyone we serve.
We actively work towards minimizing food waste in all Food & Beverage outlets. In our pursuit of waste reduction, we continuously explore innovative approaches to minimize food waste. By trying and implementing new methods, such as one of our key practices, repurposing surplus bread into our signature bread pudding. This thoughtful approach not only delights our guests but also reflects our dedication to sustainable and resourceful practices.
Green Key Ecolabel
Our efforts towards sustainability have been recognized through the prestigious Green Key ecolabel. This international standard of excellence within the tourism industry acknowledges our commitment to environmental responsibility and sustainable operations. The Green Key ecolabel highlights our focus on minimizin our environmental impact, from waste management to energy efficiency. Which we have had since 2017.
BREEAM Certification
Our hotel also holds a BREEAM certification (Building Research Establishment Environmental Assessment Method). This widely used and internationally recognized certification evaluates our building's environmental performance and sustainability. We meet high standards in areas such as energy efficiency, water usage, materials, and waste management, further reinforcing our commitment to sustainability.
WINNOW
We have partnered with Winnow, a cutting-edge technology solution that helps us reduce food waste in our F&B operations. Winnow's smart waste management system allows us to track, analyze, and efficiently manage food waste throughout our outlets. By closely monitoring our food preparation processes, we can identify areas for improvement and implement measures to minimize waste.
Since 2013 we partnered with the leerexpert, a specialized school catering to young individuals with special needs.
These students, who face mental challenges and often come from challenging social backgrounds, find a welcoming sanctuary within our hotel. Every Thursday, we extend our heartfelt invitation to a class of 15 students, enabling them to actively participate in diverse areas such as housekeeping, restaurant, and maintenance. Through this collaboration, we offer these young individuals a sense of structure, empowering them with essential skills and preparing them for a successful transition into life beyond school.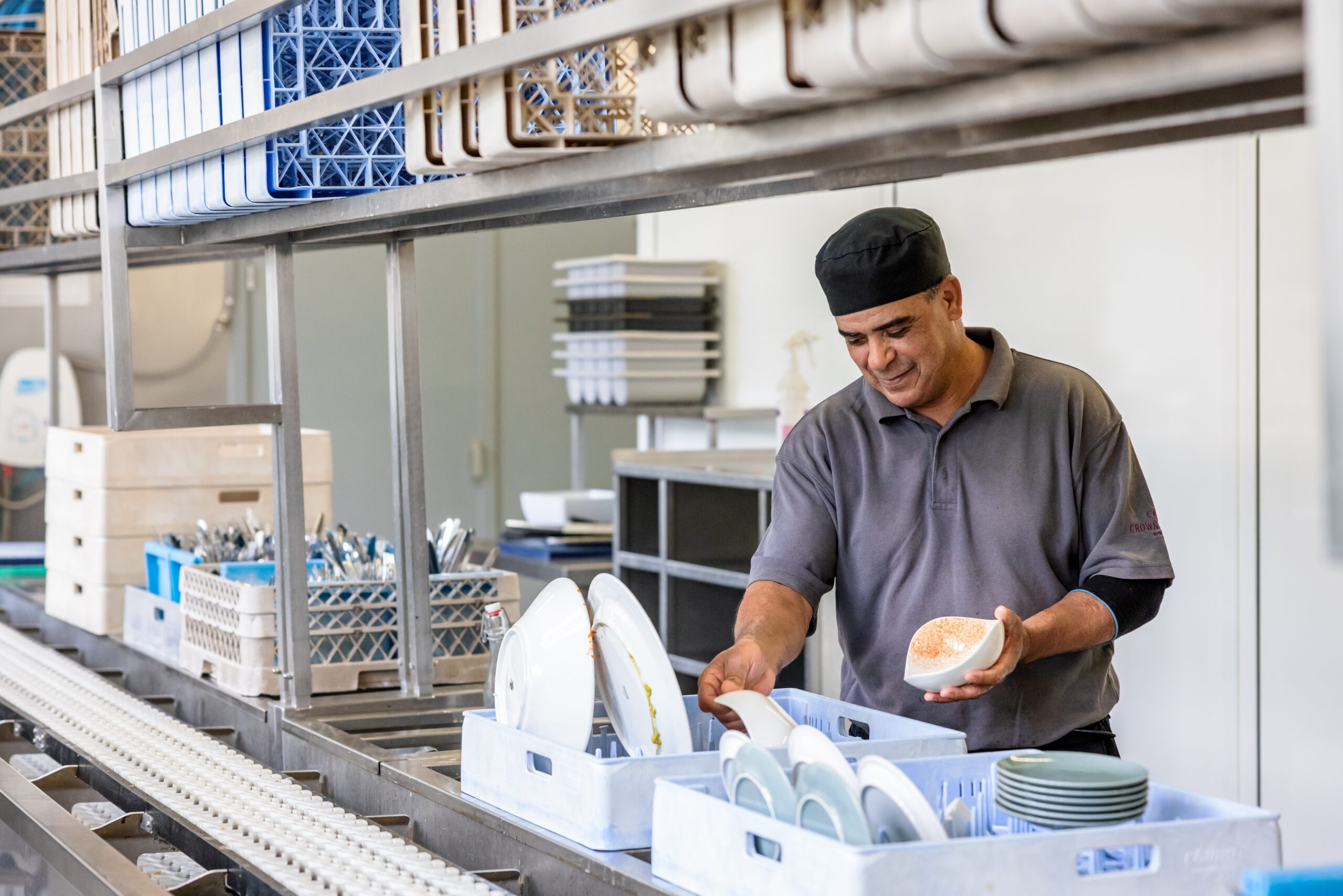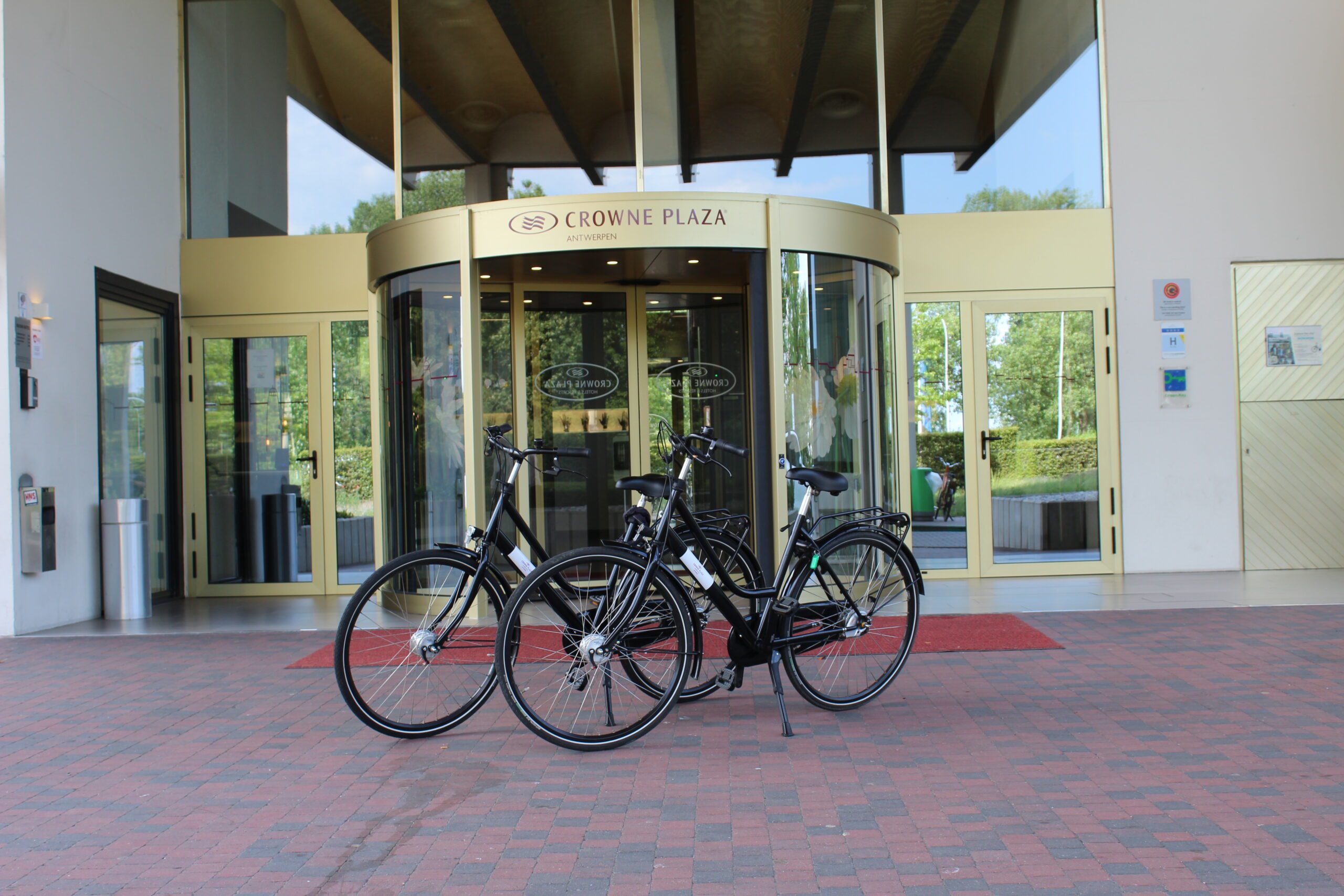 Conveniently accessible by car and public transportation, Crowne Plaza Antwerp promotes eco-consciousness. Explore sustainably with our bicycle rentals and scenic hiking trails, or opt for the airport express shuttle stopping right in front of our hotel. Enhance your mobility with bike rentals from our front desk for a seamless and green travel experience. Embrace eco-friendly discovery during your stay with us.
Experience Antwerp differently